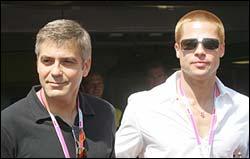 Brad Pitt and his pal George Clooney just inked a deal with nightclub owner Rande Gerber to build a new Las Vegas hotel and casino.
But while the stars don't have to put in a dime, they'll get a hefty slice of the proceeds. "George and Brad are not putting in any money, but they will be getting a percentage of the profits," our well-placed insider says. "Brad will design the hotel and be the face of it with George. After 'Ocean's Eleven,' this makes perfect sense and the three of them are very good friends."
Pitt and Gerber first started talking about the project two years ago and recently brought Clooney into the deal. Gerber, who used to have a partnership with Ian Schrager but now works with the W Hotels, is getting out of the bar business altogether after "realizing he can make so much more by owning the hotel outright," we're told. The deal will be formally announced in November and ground will be broken on the Strip in January. Pitt's rep confirmed he was doing "some sort of business with [Gerber]" but declined further comment, as did Clooney's rep.
---
Posted by Lawren at July 8, 2005 07:45 AM | Trackbacks (0)