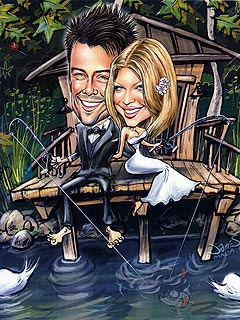 How top secret was Fergie and Josh Duhamel's wedding last weekend? The invites weren't given out until after the ceremony.
Created by invitationers Lehr & Black, Fergie and Duhamel's invitations were "a reflection of both of their personalities," says the Los Angeles business's Ellen Black.
"Fergie loves bling and has a love for unicorns and Josh loves nature," she says. "The artwork had leaves and hidden details like a unicorn and the invites were decorated with crystals." "There's a current trend for celebrities to give out the invitation as a gift at the end of the wedding," says Black, who has also created invites for Jennifer Lopez, Eva Longoria Parker, Gwen Stefani and Adam Sandler. "That way, they can avoid the invitation being revealed before the wedding and can keep all the details a secret."
Accompanying the wedding invitation was a caricature of Fergie and Duhamel fishing. "Josh has a love for art," says Black, "and viewed it as giving a way of piece of art."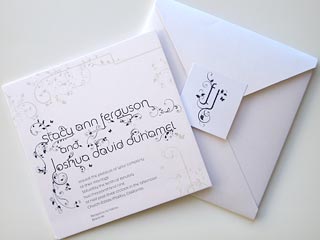 ---
Posted by Lawren at January 14, 2009 06:31 AM | Trackbacks (0)

As with everyone else here, we want, nay, demand more! more of your thoughts, more history and more ,,
Says:
Jesse
at January 31, 2009 01:56 PM
---
HI! Very nice site!,
Says:
Patrick
at January 31, 2009 01:57 PM
---
Keep up this great resource.,
Says:
Michael
at January 31, 2009 02:06 PM
---
Very nice site!,
Says:
Atsumi
at January 31, 2009 02:07 PM
---
Limited offers!, ,
Says:
Kara
at January 31, 2009 02:16 PM
---
As with everyone else here, we want, nay, demand more! more of your thoughts, more history and more ,,
Says:
William
at January 31, 2009 02:17 PM
---
Hello this is nice homepage. Best work boys.,
Says:
Emma
at January 31, 2009 02:27 PM
---
HI! Very nice site!,
Says:
Moses
at January 31, 2009 02:27 PM
---
HI! Very nice site!,
Says:
Isabella
at January 31, 2009 02:37 PM
---
Hello this is nice homepage. Best work boys.,
Says:
Moses
at January 31, 2009 02:37 PM
---
Thanks for your great site!,
Says:
Caleb
at January 31, 2009 02:46 PM
---
As with everyone else here, we want, nay, demand more! more of your thoughts, more history and more ,,
Says:
Joshua
at January 31, 2009 03:06 PM
---
As with everyone else here, we want, nay, demand more! more of your thoughts, more history and more ,,
Says:
Leslie
at January 31, 2009 03:17 PM
---
There's a great deal at this pharmacy site if you want to,
Says:
Marta
at January 31, 2009 03:26 PM
---
Hello!,
Says:
Atsumi
at January 31, 2009 03:35 PM
---
Limited offers!, ,
Says:
Peg
at January 31, 2009 03:43 PM
---
Hello this is nice homepage. Best work boys.,
Says:
James
at January 31, 2009 03:44 PM
---
Hello this is nice homepage. Best work boys.,
Says:
Francisco
at January 31, 2009 03:52 PM
---
HI! Very nice site!,
Says:
Dana
at January 31, 2009 03:53 PM
---
HI! Very nice site!,
Says:
Susan
at January 31, 2009 04:01 PM
---
Be a superman. Be a super lover. Be with Viagra Soft Tabs!,
Says:
Michael
at January 31, 2009 04:02 PM
---
Keep up this great resource.,
Says:
Caleb
at January 31, 2009 04:10 PM
---
Very nice site!,
Says:
Carrie
at January 31, 2009 04:11 PM
---
A good site, good short contents of the good work. Congratulations !, ,
Says:
Ramona
at January 31, 2009 04:19 PM
---
Hello!,
Says:
Carrie
at January 31, 2009 04:28 PM
---
Keep up this great resource.,
Says:
Leslie
at January 31, 2009 04:28 PM
---
Very nice site!,
Says:
Francisco
at January 31, 2009 04:37 PM
---
There's a great deal at this pharmacy site if you want to,
Says:
Philip
at January 31, 2009 04:37 PM
---