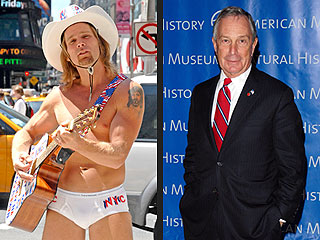 Not that this will leave him wearing much, but the Naked Cowboy is tossing his hat in the ring – to run for New York City mayor against formidable incumbent Michael Bloomberg.
The Cowboy – a guitar-strumming, 10-gallon-hat-and-skivvies-wearing Times Square fixture who for the past 11 years has posed for pictures with tourists – plans to announce his candidacy Wednesday, Reuters reports.
"No one knows how to do more with less than yours truly, and that's the kind of thinking I plan on sharing with my fellow New Yorkers when you elect me," said the Cowboy, an Ohio native whose real name is Robert Burck, 38.
---
Posted by Lawren at July 21, 2009 08:14 AM | Trackbacks (0)