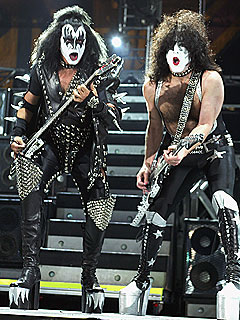 If Kiss has it their way, they'll get to "rock & roll all nite" in music's greatest home: the Rock and Roll Hall of Fame.
The band has been eligible for years but this is the first they have been nominated along with Jimmy Cliff, Genesis, LL Cool J, ABBA, the Chantels and the Red Hot Chili Peppers. "It's a real honor to be nominated in our first year of eligibility. Obviously the Hall of Fame has excellent musical taste," Chili Pepper drummer Chad Smith told Billboard.
The acts gain a shot at the Hall of Fame 25 years after their first single or album. A group of more than 500 musicians and music professionals will vote on the group, and winners will be honored at the Waldorf Astoria in New York on March. 15.
The Hall of Fame is also having a 25th anniversary concerts on Oct. 29 and Oct. 30 at New York's Madison Square Garden, and will be releasing the book "The Rock and Roll Hall of Fame: The First 25 Years" along with a nine-DVD boxed set, "Rock and Roll Hall of Fame Live."
---
Posted by Lawren at September 24, 2009 08:07 AM | Trackbacks (0)