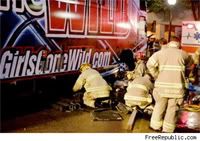 A bicyclist was trapped underneath a bus full of liquored-up cock teasers.
A Girls Gone Wild tour bus collided with a bicyclist in Iowa City, Iowa, landing the cyclist in the hospital. Firefighters arrived to find a male bicylist trapped beneath the tour bus, where he remained for 20 minutes before high-pressure air bags could be used to lift the vehicle and get him out. The accident occurred as part of the Girls' bar-hopping national publicity tour, which pulls into Anaheim, Calif. on Wednesday.
Source: Junkiness
---
Posted by Lawren at July 28, 2006 07:54 AM | Trackbacks (0)

is the tour coming to indy?
Says:
at July 28, 2006 10:16 AM
---
Thanks for your post on the travel industry. I will also like to include that if you are one senior contemplating traveling, it's absolutely crucial that you buy travel insurance for seniors. When traveling, elderly people are at high risk being in need of a medical emergency. Obtaining the right insurance policy package to your age group can look after your health and provide you with peace of mind.
Says:
Lawyers in Costa Rica
at August 27, 2013 03:45 PM
---