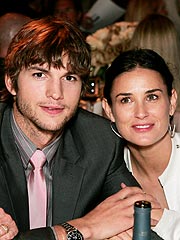 --At 44, Demi Moore has three teenage daughters, a much-younger husband and a thriving comeback career – so you'd think she has her hands full. But she wants more kids. "Most definitely," she tells Vanity Fair when asked whether she wants children with Ashton Kutcher, 28.

--Mario Lopez will host this year's Miss America pageant in Las Vegas, event organizers said Wednesday. "I'm honored. I think it's going to be great," Lopez told The Associated Press from Los Angeles prior to the announcement by Country Music Television Inc.'s officials in Nashville The pageant will air Jan. 29 from the Aladdin Resort & Casino on the Las Vegas Strip. Why do I have a feeling he'll be hitting on every chick backstage?

--Click here to take a view at some of the world's stupidest tattoos.

--Beyonce won't be getting an Oscar for Best Song. And, from what I've been reading, won't come near a Best Actress Oscar either.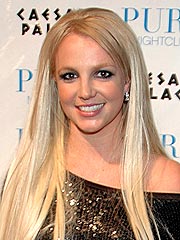 --"Stop biting my nails. Just to take care of me more." --Britney Spears, on her New Year's resolutions.

--Justin and Cameron are dunzo.
--Beloved teen soap The O.C. has been canceled due to falling ratings following actress Mischa Barton's decision to quit the show. The once hit series joins former Will & Grace star Megan Mullally's new chat show as the first TV casualties of the new year in America. Mullally's much-criticized show will end immediately, while The O.C. will see out its current season. The final episode of the series will air on February 22. In a statement released yesterday, The O.C. creator Josh Schwartz said, "It has been an amazing experience and a great run. For a certain audience, at a certain time, The O.C. has meant something. For that we are grateful."

--Barack Obama has tried cocaine. Zzzz...
--Veteran US soap star Drake Hogestyn has filed a restraining order against a man who attacked him in his California home. The actor, who has played John Black on daytime soap Days Of Our Lives for over 20 years, claims Carl Raymond Cheney assaulted him and "physically tried to exorcise the devil from me." In court papers, obtained by website Tmz.com, Hogestyn reveals he was relaxing at home with his family when Oregon native Cheney found his way onto his property and charged at the actor's daughter. Hogestyn reveals Cheney was carrying a Bible and screaming, "Where is he? I will cast him out!" The actor adds Cheney was "calling me by my stage name... recalling past storylines, especially the demonic possession of several years past. But more important, he thought I was dead, because the show that aired on Friday 12.29.06 left my character John Black shot and presumed dead." Hogestyn spent 10 minutes grappling with Cheney until he and his 25-year-old son Ben were able to restrain him and call the police. When WENN went to press, Cheney was in custody at the Los Angeles County Jail on $150,000 bail. Ha! I remember the storyline when he and Marlena were possessed! Truly high-caliber TV!

--Former"That '70s Show" star Wilmer Valderrama can add "fashion designer" to his growing list of side gigs. DNR reports the host of "Yo Momma" and Miami club parties is "setting his sights on the young men's fashion market." Valderrama plans to launch a "Latino-inspired" men's label called Calavena this year.

--Angelina Jolie has been immortalized as the Virgin Mary in a shocking new painting. The actress is portrayed as the mother of God while her adopted children Maddox and Zahara and daughter Shiloh are her cherubs. The painting is on display at the Miami Art Fair. People have way too much time on their hands...
--It's nothing but love for Lindsay Lohan and her Georgia Rule costar Jane Fonda and director Garry Marshall on the film's Los Angeles set recently, where the three got together to celebrate Fonda's 69th birthday.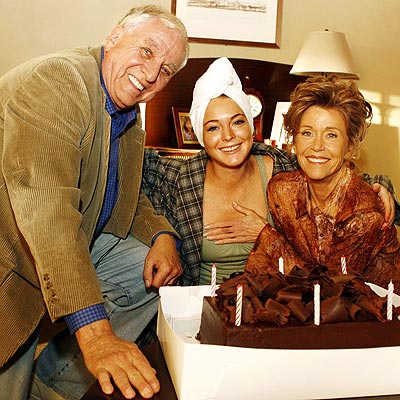 I love how she's covering up L.Lo's ta-ta's. :)

---
Posted by Lawren at January 4, 2007 06:53 AM | Trackbacks (0)

Mrs Rev and I will be taking JT and Cam's breakup pretty hard. They were our favorite celeb couple.
How about the size of Angelina's lips in that painting? She may as well have a tiny body and be swinging a tennis racket.
Says:
The Rev
at January 4, 2007 08:25 AM
---
Hohan and Fonda need to ease up on the orange tanner ...
Says:
Iceman
at January 4, 2007 08:49 AM
---
Sigh...the Brit news is really starting to get old. At first it was fun, but she's got to do something...different.
Says:
Tracy
at January 4, 2007 01:07 PM
---
590e4cafb7 bodybuilding supplies and ephedrine 761e3 extract ephedrine 5d776 pure ephedrine 9d7cc
Says:
bodybuilding
at April 8, 2009 02:47 AM
---
Very nice site! cheap viagra
Says:
John328
at April 28, 2009 11:13 AM
---
Very nice site!
Says:
John328
at April 28, 2009 11:15 AM
---
Very nice site! cheap viagra , cheap viagra , cheap viagra , cheap viagra , cheap viagra , cheap viagra , cheap viagra , cheap viagra , cheap viagra , cheap viagra ,
Says:
John328
at April 28, 2009 11:15 AM
---
ko8Sam rzzyhscafdwa, [url=http://kaolvbfyjvje.com/]kaolvbfyjvje[/url], [link=http://curhyfkpaogd.com/]curhyfkpaogd[/link], http://nfapxhybwxuc.com/
Says:
dcdxkv
at May 4, 2009 09:17 PM
---
Very nice site! cheap viagra
Says:
John1023
at July 2, 2009 09:09 AM
---
Very nice site! [url=http://ypxoiea.com/ovyrrov/2.html]cheap cialis[/url]
Says:
John1023
at July 2, 2009 09:09 AM
---
Very nice site! cheap cialis http://ypxoiea.com/ovyrrov/4.html
Says:
John1023
at July 2, 2009 09:10 AM
---
If you smoke and want an alternative then try an e-cig. If you don't smoke then DON'T buy an e-cig as they contain nicotine and this is addictive!
Says:
smokeless cigarette prado
at May 17, 2013 05:48 PM
---
Have you ever considered publishing an ebook or guest
authoring on other websites? I have a blog based on the same topics you discuss and would love to have you share some stories/information.
I know my viewers would enjoy your work. If you are even remotely interested, feel free to send me
an e mail.
Says:
odontologia Uberaba
at March 10, 2014 11:49 PM
---