--The dance cards for season five of ABC's Dancing with the Stars have officially been filled – with a Spice Girl, an Abercrombie & Fitch model, a boxer, a billionaire and a Las Vegas icon all part of the 12-person mix. The names were revealed on Wednesday's Good Morning America by DWTS host Tom Bergeron, show judge Carrie Ann Inaba and season-four champ Apolo Ohno.
And, they are:
• Melanie "Mel B" Brown, 32, Spice Girls ("Scary Spice") singer (pro partner: Maksim Chmerkovskiy);
• Sabrina Bryan, 22, actress/singer (The Cheetah Girls) (pro partner: Mark Ballas);
• Helio Castroneves, 32, racecar driver (pro partner: Julianne Hough);
• Mark Cuban, 48, businessman (owner of NBA's Dallas Mavericks) (pro partner: Kym Johnson);
• Jennie Garth, 35, actress (Beverly Hills, 90210) (pro partner: Derek Hough, older brother of Julianne Hough); (Go Team Kelly Taylor!)
• Josie Maran, 29, supermodel (pro partner Alec Mazo);
• Cameron Mathison, 38, actor (All My Children) (pro partner: Edyta Sliwinska;
• Floyd Mayweather, Jr., 30, boxer (pro partner: Karina Smirnoff);
• Wayne Newton, 65, singer (pro partner: Cheryl Burke);
• Marie Osmond, 47, singer/doll designer (pro partner: Jonathan Roberts);
• Albert Reed, 22, supermodel (pro partner: Anna Trebunskaya; and
• Jane Seymour, 56, actress (pro partner: Tony Dovolani). (Wonder if she'll ask to be called "Kitty Cat")
--Soul singer Toni Braxton has hit back at tabloid reports she's battling breast cancer. The singer has issued a statement dismissing rumors that surfaced in the National Enquirer last week and spread online. Braxton writes, "There has been a rumor circulating that I have been diagnosed with breast cancer. After feeling something uncomfortable in my left breast, I went in for a screening. I was very fortunate that they did not find anything and I am in great health." Braxton has chosen to take the high road on the hoax health crisis, hoping the shocking story will persuade women who have been holding off cancer checks to get serious about the disease. She adds, "I encourage women to take their annual tests and suggested precautions to prevent this disease that continues to affect so many women."

--David Letterman will make his first appearance on "The Oprah Winfrey Show" next month, another sign the talk-show titans have buried the hatchet after a rift that lasted more than a decade. Letterman will tape the interview, a rare appearance on someone else's show, on Sept. 10 at Madison Square Garden in New York, Winfrey's production company announced Wednesday. Their reconciliation began in 2005 when Winfrey appeared on CBS' "Late Show with David Letterman." It was Winfrey's first guest appearance with Letterman, though she twice appeared on his NBC show before the comic jumped networks in 1993.
--Heavily-pregnant actress Salma Hayek has ruled out moving to Paris to become a housewife after she gives birth to her French fiance's child - she wants to continue working at her production company in the U.S. instead. The Frida star is due to give birth to her first child with partner Francois-Henri Pinault any time now. But despite impending motherhood, Hayek plans to keep herself busy professionally by working on new projects with her Ventanarosa Productions business partner Jose Tamez. She says, "I'm going to stay (in the U.S.) and run this company. I could just say I will give it all up and be a housewife in Paris. But I said, 'No.' I was so lucky because I found myself a man who is a great businessman. And he loves it that I work this hard. He has a lot of respect for what I do."

--Julia Stiles is a good girlfriend. The beauty was spotted this week helping her sweetheart, Jonathan Cramer, install his new geometrical sculpture at 111 Central Park North. "A construction worker asked if she was 'that actress,' " said our spy, who overheard Stiles respond, "No, but I get mistaken for her all the time." Stiles isn't Cramer's only celebrity helper - Josh Lucas did "the dirty work" and "spent all afternoon bolting and holding the 2,000-pound metal sculpture in place," said the insider.
--A conservative media watchdog organization charged Wednesday that the network morning news shows have spent considerably more time this year on Democrats running for president than on Republicans. Network news executives rejected any suggestion of bias, and said they have a considerably harder time getting Republican candidates to appear on their shows. Through July 31, the ABC, CBS and NBC morning news shows devoted 284 campaign segments to Democratic candidates and 152 to Republicans, according to the Media Research Center. Another 81 stories discussed both parties or a possible independent run by New York City Mayor Michael Bloomberg. "The double standard has got to stop," said L. Brent Bozell, the group's founder. "What you hope is that there would be fairness. If you are going to give that much coverage to the Democrats, give it to the Republicans, too." (Ha. File that under "Duh")

--Bobby Brown claims he lived in his car while Whitney was in rehab. In Brown's declaration, he claims, "Since Whitney has been awarded sole legal and physical custody of Bobbi Kris, she has attempted to eliminate me from Bobbi Kris' life." He also states, "I did all I could to see my daughter…I also paid approximately $10,000 for Whitney and Bobby Kris to live in a nice hotel while Whitney was going through rehab…I basically lived in my car." He concludes, "I have not seen or spoken to my daughter since early June and I have no prospect of speaking to her or seeing her anytime soon due to Whitney's actions."
--Wrestler Hulk Hogan's teenage son Nick Hogan was racing another car moments before he lost control of his own vehicle and crashed into a tree, according to a witness. Frances Vitalis, who was riding a motorcycle with a friend behind the two cars, claims the drivers were revving their engines and racing between each set of traffic lights on the road in Clearwater, Florida on Sunday night. Vitalis says, "We knew something was going to happen. You know that this is a bad situation and these guys are hotdogging." According to website Tmz.com, police officers have interviewed the driver of a silver Dodge Viper that may have been involved in the accident. Local law enforcement officials have so far only confirmed Hogan's son Nick was driving a Toyota Supra at high speed when he lost control and struck a palm tree. Nick and his friend John Graziano were flown by Medivac helicopters to a hospital in St. Petersburg. Nick, also known as Nick Bollea, has since been discharged after being treated for minor injuries, but Graziano remains in a critical condition. Nick has been caught speeding three times in the 12 months before Sunday's accident.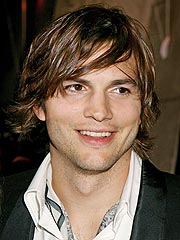 --"Your man should not upstage you. He is there to highlight you. Guys don't like to be told they look nice, pretty, or cute or that they clean up well." "We want to feel dirty, rugged, and, most important, that you feel safe when you are in our company," he continues. "So when your guy finally tries on something that you like, tell him that he looks like James Bond or Tony Montana. Feel free to be even more vague than that: 'Wow, that suit makes you look like that hot football player!' Trust me, say any of this and you won't be able to get him to take the damn suit off. When it comes to getting dressed, men are a little bit more important than handbags but less important than shoes," he writes. "At any rate, we are merely accessories." --Ashton Kutcher
Random Thought of the Day:
My fave song of the moment is "When Did Your Heart Go Missing" by Rooney. Click here to listen and watch the video. The video is terrible, although it does feature Talia Shire, the mother of one of the band members. Oh, and guess where they got the name for the band? You guessed it. "ROOOONEY!" (Name that movie).
---
Posted by Lawren at August 30, 2007 05:57 AM | Trackbacks (0)

Ferris Bueller's Day Off
Says:
Megan
at August 30, 2007 07:58 AM
---
LOVE ashton. he's so smart.

Says:
kq
at August 30, 2007 08:54 AM
---
-Nick Hogan needs to be "held to the fire" for his b.s. actions and hurting/endangering others. Perfect example of some kid born to privelage who abuses the gift.
-I don't know exactly what kind of father Bobby Brown is but if "mom" is trying to clean-up her act for herself and her daughter, maybe "dad" shouldn't be in the picture too much until he does the same.
-Yeah, that's just what I want...a "dirty" guy who takes a backseat to me.
Says:
nanc'
at August 30, 2007 11:54 AM
---
p.s. Just listened to the clip.
"ADRIENNE!"
I wondered whatever happened to her.
Says:
nanc'
at August 30, 2007 01:45 PM
---
Kutcher is gay (not that there's anything wrong with that).
Says:
RJ
at August 31, 2007 08:23 AM
---
7Q4a6A dlfrfixsotba, [url=http://dtfudmouukcz.com/]dtfudmouukcz[/url], [link=http://fybdgejizfra.com/]fybdgejizfra[/link], http://elmgcbocpbjv.com/
Says:
fbvdbzpeu
at February 2, 2010 06:11 AM
---
prednisone %-P valium 10mg vmrz valium without prescription >:-[
Says:
log2mt
at March 5, 2010 08:16 PM
---
tramadol online %[[ accutane =]]] valium >:-[
Says:
motel
at March 13, 2010 05:50 AM
---
auto insurance zdmg auto insurance quotes %((( auto insurance wxsqif car insurance rates =[[[
Says:
evdokiya
at March 16, 2010 04:22 PM
---
auto insurance west virginia =-DDD online blackjack america 31504 viagra does not =OO free credited reports izdije xanax drug test how long clear 418690 free health insurence :-PPP
Says:
bennysantos
at August 7, 2010 07:46 AM
---
Appreciate it for helping out, wonderful information.
Says:
lee belcher
at October 20, 2011 05:26 AM
---
I was looking at some of your posts on this site and I think this website is real informative ! Keep putting up.
Says:
buy quality backlinks
at October 26, 2011 09:39 AM
---
One of the best activities for getting the body into shape and losing weight is something that many women are scared to attempt. Weightlifting can be a daunting activity for a beginner especially in the crowded gym environment. Seeing the scores of overly muscled men because they throw about ridiculously heavy amounts of weight can scare many from your weight room and keep them happy and comfortable hovering over their exercise bikes or treadmills. This is not always a good option for someone who is trying to lose weight and get in form however and building true muscle should participate anyone's exercise and fat loss regimen. Muscle helps to burn off fat and muscle also helps shape the body- so choosing a weightlifting program for women can be extremely helpful for them within achieving their goals.
But so how exactly does one go about choosing this type of program if they certainly are a beginner? Well, as may be the case with beginning any new activities the wisest advice is to simply take it slow. You don't have in order to rush in and get the heaviest weight or advanced program you learn about to start making improvement. In fact, this has become the easiest way to impede your progress. Your goal is to get in shape, not hurt yourself. In addition, you don't even need to lift free weights to build a?substantial amount?of muscle.
In any gym environment there are generally a number of machines which you can use in your weightlifting system. One of the trainers on-site or members in the gym can surely help you get acclimated if this is your first time. Your goal as a beginner ought to be to incorporate as many muscles as you possibly can into each movement a person make. For instance, first-time weightlifters are most likely wasting their time through doing sets Ab Machines of bicep curls. Instead, choose a compound motion like dips or pull ups utilizing a machine that recruits many muscle groups simultaneously. Performing these exercises will allow you to work your biceps, triceps, delts (shoulder blades), upper back, trapezius, and the muscles of your whole forearm. In the same period of time it would take you to definitely do a few sets of curls to just hit your biceps or even push downs you've worked a good portion of your entire upper body.
The same is true for the lower body. Many women assume that a weightlifting program must consist of such singular exercises as leg extensions or lower leg curls. Instead, a few sets associated with high rep body weight squats will provide you with much bigger bang for the buck. Body weight squats are simply just performed by standing straight up and squatting down until your thighs are about parallel with the ground making sure to keep your knees behind your toes. This one exercise can work your glutes (butt), leg biceps (hamstrings), quadriceps, calves and truth be told, even your abdominals. Add several sets of push ups to these exercises already mentioned and you have worked your entire body.
As you can see, developing a weightlifting program for women to help them build muscle and burn fat is not as hard as once perceived. Taking it slow and simple can be your key to a healthful and effective weight-loss program.
Says:
Ula Shirey
at November 5, 2011 08:14 PM
---
The revolutionary Blackberry OS seems to be more strong as compared to never but i'm still feeling it lacks some improvements in making it a massive player to opposition Androids and iphones. I think my blackberry requires a better music player, more applications and a further tuning on the style otherwise RIM could have difficulties to take on the new microsoft windows Mbile and Nokia developing.
Says:
blackberry curve 8530
at November 7, 2011 06:06 PM
---
The next time I read a website, I hope that it doesnt disappoint me as much as this one. I mean, I know it was my choice to read, but I actually thought youd have something interesting to say. All I hear is a bunch of whining about something that you could fix if you werent too busy looking for attention.
Says:
passagens aereas usa
at November 9, 2011 06:41 PM
---
As the saying goes, within the professional's mind there aren't many choices, but for someone possessing a beginner's mind, everything is wide open. http://www.cellphone.cm
Says:
phones for sale
at November 17, 2011 06:26 PM
---
This fantatic post was very nicely written, and it also contains many good facts. I appreciated your professional way of writing the post. You have made it easy for me to understand. Good and precise info. http://voegol.org
Says:
passagem aerea argentina
at November 18, 2011 01:34 PM
---
If you are looking for a professional escort service be sure to check out our site.
Says:
link building services
at November 21, 2011 04:33 AM
---
Thanks for the info mate
Says:
My blog
at November 24, 2011 12:27 PM
---
Good work with your article! I found this article via Google and I'm glad!
Says:
s63gskd672gssd
at November 28, 2011 10:43 AM
---
It was a pleasure looking through the details you provided. Thank you very much for taking the time to create the information site. I definitely will revisit very soon.
Says:
mensagens gratis para celular
at November 28, 2011 11:21 PM
---
Lol great post mate just added you on twitter ;)
Says:
tips for link building
at November 30, 2011 10:40 PM
---
thumbs up if you move your head up down like them while watching.
Says:
playstation portable
at December 2, 2011 08:36 PM
---
i love miley,,, but was that a baby bump at the end of the vid?
Says:
Counter Strike
at December 16, 2011 02:19 PM
---
Right now it sounds like Expression Engine is the preferred blogging platform out there right now. (from what I've read) Is that what you are using on your blog?
Says:
Cher Dold
at December 28, 2011 01:29 PM
---
Hi there, You've performed an excellent job. I'll definitely digg it and in my opinion recommend to my friends. I am confident they will be benefited from this website.
Says:
Johnetta Lineman
at January 6, 2012 08:27 PM
---
How I have not come across this url is beyond me bc I have already been saying/thinking the very comments stated on here cardio. I just wished to add a wonderful tidbit proving a lot of jackass living in AZ will make you when you are constantly surrounded from jackasses. As anyone before described the software "hateful and angry". Not which i can blame him or her. Anyway, while on a visit to WA we were down the middle of the city taking pics of merely one another when several grouped teenage boys came around me asking whether they could take some of our picture. Immediately my thinkings were "this guys gonna attempt steal my darn camera". Logical thought process right? No, not likely. Only if that you are used to ghetto ARIZONA apparently. We went across Seattle (waaaaay larger than our little AZ town) rather than once and Come on, man ONCE had someone be unfriendly. Multiple people on the agenda to be helpful/start discussion to total strangers/smiling because you walk by. Actually ashamed at how i behaved the first couple of days up there eyeing people along like they were approximately something and generally a bitch. I JUST didn't realize the best way stand-offish I've turned into. You'd think WE was from Harlem Texas not a dinky suburb. Now back in AZ and returning to my permanent scowl. Sigh.
Says:
torpedo sms gratis
at January 15, 2012 02:14 PM
---
Thanks for sharing this great post, i really adore your blog, but i have some issue i dont know whether it's my side problem or on your site? some words from the submit on your blog have charactor encoding problem, yes i use auto detecting, can u pls look into this problem a bit? http://www.bingogratis.com.br
Says:
jogos infantis gratis
at January 29, 2012 11:08 AM
---
Just out of curiosity, what's your experience in the field like? I searched around the site and couldn't find a bio or anything. Either way, thanks for the info!
Says:
Construction Software
at February 7, 2012 04:40 AM
---
Hey – nice site, just looking around some blogs, seems a pretty nice platform you are using. I'm currently using WordPress for a few of my websites but looking to change one of them over to a platform similar to yours as a trial run. Anything in particular you would recommend about it? http://www.bingogratis.com.br/videobingo
Says:
Video bingo brasil
at February 10, 2012 09:28 PM
---
Attractive section of content. I just stumbled upon your website and in accession capital to assert that I acquire in fact enjoyed account your blog posts. Anyway I will be subscribing to your augment and even I achievement you access consistently rapidly.
Says:
Maple Fought
at March 5, 2012 04:56 PM
---
Says:
Sydney Tassey
at March 13, 2012 02:36 PM
---
Someone essentially assist to make seriously articles I might state. This is the first time I frequented your website page and thus far? I surprised with the analysis you made to create this particular put up incredible. Fantastic process!
Says:
Mosaikfliese
at April 7, 2012 02:02 PM
---
Fantastic beat ! I wish to apprentice while you amend your site, how can i subscribe for a blog site? The account aided me a acceptable deal. I had been a little bit acquainted of this your broadcast offered bright clear concept
Says:
Audry Brownsword
at May 2, 2012 06:49 PM
---
I do not even know how I ended up here, but I thought this post was great. I do not know who you are but certainly you are going to a famous blogger if you are not already ;) Cheers!
Says:
Hip Hop
at May 3, 2012 07:50 PM
---
I have read a few good stuff here. Certainly worth bookmarking for revisiting. I surprise how much effort you put to create such a fantastic informative site.
Says:
Marlene Osdoba
at May 5, 2012 02:12 PM
---
I've read some good stuff here. Definitely worth bookmarking for revisiting. I wonder how much effort you put to create such a wonderful informative website.
Says:
Pozycjonowanie Rzeszów
at May 5, 2012 02:24 PM
---
Says:
Kulczeki
at May 7, 2012 12:04 AM
---
Simply wish to say your article is as astonishing. The clearness in your post is just spectacular and i could assume you're an expert on this subject. Well with your permission let me to grab your feed to keep updated with forthcoming post. Thanks a million and please carry on the gratifying work.
Says:
Teczki
at May 7, 2012 05:05 PM
---
Thanks for typically the sensible critique. Me & my own neighbor were just preparing to do a little research for this. We got a book from some of our local library but I'm sure I learned more designed by post. I'm very glad to see such excellent information and facts being shared freely available.
Says:
leia mais to verify
at June 28, 2012 11:11 AM
---
Do you people have a myspace fan page? I looked for for one on twitter but could not come across it, I'd genuinely prefer to grow to be a fan!
Says:
African Mango
at January 24, 2013 09:17 PM
---
Some really select articles on this internet site , bookmarked .
louis vuitton outlet
Says:
louis vuitton outlet
at January 24, 2013 11:07 PM
---
Really useful field, thanks a ton for ad. "It has long been an axiom of mine that the little issues are infinitely the most vital." by Conan Doyle..
Says:
Buy Oranges Here
at January 27, 2013 11:11 AM
---
Your weblog is incredible dude. i adore to stop by it everyday. pretty great layout and content material ,
Says:
Marcia Patel
at January 28, 2013 01:47 PM
---
I've got some ongoing tasks and I wanted all these students help me with it.
Says:
kamagra zselé rendelés
at January 31, 2013 01:26 AM
---
Amazing blog! Is your theme custom produced or did you download it from somewhere? A theme like yours using a couple of uncomplicated adjustements would seriously make my blog stand out. Please let me know exactly where you got your design. Thanks a lot
Says:
html gold
at February 11, 2013 07:41 AM
---
Your home is valueble for me. Thanks!…
Says:
Lory Slane
at March 11, 2013 05:24 AM
---
This design is spectacular! You obviously know how to keep a reader entertained. Between your wit and your videos, I was almost moved to start my own blog (well, almost...HaHa!) Fantastic job. I really enjoyed what you had to say, and more than that, how you presented it. Too cool!
Says:
Laura Beedham
at March 11, 2013 08:01 PM
---
When you are new to bodybuilding its very important to educate yourself so you dont hurt yourself in the gym and dont waste your time. People must remember that nutrition is the most important factor when it comes to bodybuilding. You need to supply your body with the right nutrients to grow. Bodybuilding is a lifestyle, it takes dedication and hard work
Says:
e cigarettes pay shipping only
at May 17, 2013 05:43 PM
---
Wow! In the end I got a web site from where I can genuinely take valuable facts concerning my study and knowledge.|
Says:
Candice Fyke
at September 29, 2013 09:52 PM
---
When I initially commented I clicked the "Notify me when new comments are added" checkbox and now each time a comment is added I get three e-mails with the same comment. Is there any way you can remove me from that service? Appreciate it!
Says:
burberry scarf fashion
at October 19, 2013 08:07 PM
---