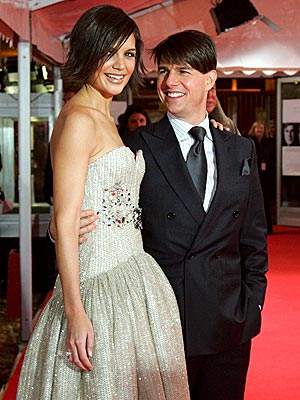 Happy 1-year anniversary TomKat!
(I gotta say...I really like how her look has matured over the last year. She was in desperate need of that haircut, and for once, she actually looks like she has a hairstyle, and not just limp locks. And, she's finally learned how to wear a little make-up. And, normally, she dresses quite sophisticated; very Reese Whitherspoon--subtle, classic, never overly trendy or wild. But, this dress is WAY off the mark. Is it an 80's prom dress themed event?)
---
Posted by Lawren at October 25, 2007 05:44 AM | Trackbacks (0)

Good for them. I like her and he seems to have toned down the crazy since Suri came along.
You were so engrossed in Katie that you completely ignored Tom. What is up with his hair? And the double-breasted suit is a style that should go the way of the dinosaur.
Says:
at October 25, 2007 07:13 AM
---
First thing I noticed was Tom's hair. WTF? Dude in in need of a visit to Jonathan Anton (sp?)!!!
Says:
Iceman
at October 25, 2007 08:53 AM
---
Tom's hair looks like a bad rug.
He'd actually look better, or at least cooler, with Katie's doo.
Says:
aeh
at October 25, 2007 09:23 AM
---
come on people - Tom's hair is due to his part in the upcoming VALKYRIE movie - based on the assassnation attempt of Adolf Hitler and has been having tons of production problems.
Says:
Tina in LA
at October 25, 2007 11:00 AM
---
Has she never been properly fitted for her clothes? It seems astonishing, she spends so much on them and they never fit her right.
Says:
Cypress
at November 1, 2007 08:11 PM
---
ghd
Says:
kirk
at November 27, 2010 11:56 PM
---
This is a very informative article. I was looking for these things and here I found it. I am doing a project and this information is very useful me. Some things in here I have not thought about before.

Says:
gamefly free trial
at January 14, 2012 07:01 PM
---
I am writing a paper on romoba vacuum cleaners and I identified this article to be very beneficial and informative. Thank you.
Says:
Darcel Casile
at April 26, 2012 03:37 AM
---