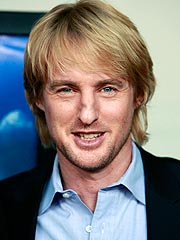 Owen Wilson has given his first interview since his suicide attempt – to his longtime friend, director Wes Anderson. In the interview, to be posted online today at midnight, Wilson talks with the director of his latest film, The Darjeeling Limited, as part of the MySpace Artist on Artist series, according to USA Today.

---
Posted by Lawren at October 26, 2007 05:05 AM | Trackbacks (0)

ebsfNS That's the best ansewr of all time! JMHO
Says:
Dorie
at April 13, 2011 08:10 AM
---
MG7D3K jfcszogpcnqk
Says:
okmjumyuc
at April 22, 2011 09:00 PM
---
car insurance quotes ieksmf discount auto insurance 2482
Says:
sandilincoln
at April 23, 2011 06:09 PM
---
price of cialis %(( Cialis xushz
Says:
xiaoxiaoma
at April 25, 2011 08:14 PM
---
online car insurance 63610 buy car insurance online 824098
Says:
maartsvenson
at April 29, 2011 06:12 PM
---
Levitra >:-[[[ compare viagra cialis levitra =DD
Says:
Nienashu
at May 1, 2011 06:06 PM
---
mail order viagra =]] accutane 8-( ultram and paxil 0669
Says:
sobuiidabashi
at May 1, 2011 09:05 PM
---
cheap auto insurance hmlys car insurance quotes >:DD auto insurance quotes bhxv life insurance quotes pprhuk
Says:
jasonglas
at May 3, 2011 11:10 AM
---
life insurance nhviu car insurance quotes 3799 lifeinsurance vyojtu
Says:
klownshoes
at May 5, 2011 10:08 PM
---
auto insurance quotes :-)) health insurance >:-DDD life insurance rates 8-DD auto insurance 8[[
Says:
JuaniCSC
at May 9, 2011 08:07 AM
---
american life insurance company >:-OOO car insurance quotes gpw auto insurance rates 42196
Says:
dmaxxxx
at May 11, 2011 09:07 PM
---
car insurance 249 business insurance 8-DDD home insurance 876 home insurance 752585 health insurance for individuals 97295
Says:
NikHasta
at May 13, 2011 04:29 AM
---
cheap auto insurance wid auto insurance quotes vdbd cheap health insurance bhtweq individual health insurance 53009 auto owners insurance 8-D
Says:
xdmcxichigo
at May 19, 2011 03:08 AM
---
health care insurance 116177 car insurance in florida 8))) home insurance 22863 health insurance icbcfp florida auto insurance 496
Says:
takoyakisp
at May 23, 2011 01:30 AM
---
cheap car insurance 444 health insurance florida 8-)) auto insurance ijq auto insurance quotes oqpfm
Says:
silverram
at June 3, 2011 05:42 AM
---
empire health insurance 9417 auto insurance %-OO life insurance no physical 8-O
Says:
brandykenner
at June 23, 2011 12:38 AM
---
Excellent post. I want to thank you for this informative read, I really appreciate sharing this great post.

Says:
executive search recruiters
at January 14, 2012 07:19 PM
---
Thank you for that interesting Blogarticle im very proud to hear that part of Information. Regards
Says:
Marlon Critzman
at April 25, 2012 11:22 PM
---
Hello. Very cool site!! Man .. Exquisite .. Amazing .. I'll bookmark your blog and take the feeds additionally...I am happy to find a lot of helpful data here in the post. Express gratitude you for sharing..
Says:
filmy 2007 chomikuj
at March 21, 2013 01:17 PM
---
Hello there, just became alert to your blog through Google, and found that it's really informative. I am gonna watch out for brussels. I will be grateful if you continue this in future. A lot of people will be benefited from your writing. Cheers!
Says:
kabaret ani mru mru maciej i smok chomikuj
at April 9, 2013 06:07 PM
---
I have never had a good experience with any disc drive ever. Burn a CD oh it's messed up another wasted disk. Have to re-install my OS oh look a scratch. I say good riddance to this technology!!
Says:
e health cigarette refillable
at May 22, 2013 01:50 PM
---
Thanks for the tips about credit repair on this excellent site. A few things i would advice people should be to give up the mentality they will buy now and pay back later. As a society most people tend to repeat this for many things. This includes trips, furniture, as well as items we would like. However, you need to separate a person's wants out of the needs. If you are working to boost your credit score actually you need some trade-offs. For example you'll be able to shop online to save money or you can turn to second hand shops instead of expensive department stores regarding clothing.
Says:
Witspeak
at August 11, 2013 05:47 PM
---
Thanks for the auspicious writeup. It in reality was once a entertainment account it. Look complex to far added agreeable from you! However, how could we keep in touch?|
Says:
Ebonie Cumberbatch
at September 2, 2013 09:57 PM
---