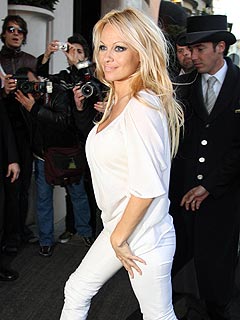 Pamela Anderson is now seeking to annul her brief marriage to Rick Salomon rather than getting a standard divorce, according to court papers.
Anderson cited "fraud" as the reason for the annulment. No details were given in the court papers, which were filed last Friday in Los Angeles Superior Court. After just two months of marriage, Anderson, 40, filed for divorce from Salomon, 39, in December, citing irreconcilable differences.
They were married last October in Las Vegas during a 90-minute break between the magic shows in which Anderson was appearing.
---
Posted by Lawren at February 27, 2008 06:45 AM | Trackbacks (0)

Congrats, Vanessa... that's wonderful news! Wishing you a healthy, delighted pregnancy.
Says:
Kerry Privott
at December 8, 2012 09:28 PM
---