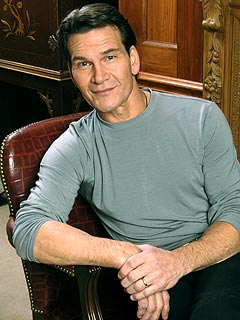 Patrick Swayze, who starred in Dirty Dancing and Ghost, has been diagnosed with pancreatic cancer, his doctor says.
"Patrick has a very limited amount of disease and he appears to be responding well to treatment thus far," Dr. George Fisher says in a statement. "All of the reports stating the time frame of his prognosis and his physical side effects are absolutely untrue. We are considerably more optimistic."
The actor's rep adds: "Patrick is continuing his normal schedule during this time, which includes working on upcoming projects. The outpouring of support and concern he has already received from the public is deeply appreciated by Patrick and his family."
Give it up for some of my favorite Patrick moments:
And, last, but CERTAINLY not least...this gem:
Chippendale dancers

Add to My Profile | More Videos
---
Posted by Lawren at March 6, 2008 06:43 AM | Trackbacks (0)

order valium qll order accutane online hzswc taking cialis and viagra together 71120 meridia 537298 buy tramadol wholesale dlcuek
Says:
owfriedman
at July 17, 2010 06:07 PM
---
Everything is very open with a clear description of the issues. It was really informative. Your site is useful. Many thanks for sharing!
Says:
Rhea Arenson
at March 8, 2012 12:57 AM
---
Outstanding point, I was truly ignorant of this till browsing your analysis. See the difficulty is truly locating info on this matter anywhere, because it appears like so few people actually put in the work to freely relay info like once was previously so common on the internet. I remember long ago when it was still a "completely new thing" the net was brimming with men and women passing out info freely. Forums, for example, have been relegated to the outskirts and social media just continues developing. Anyway thanks again and cheers!
Says:
HCG drops work
at June 10, 2012 06:10 AM
---
Omg, love!!! The interaction concerning the two is astounding. So are your footage
Says:
Ambrose Pipes
at May 4, 2013 02:12 AM
---