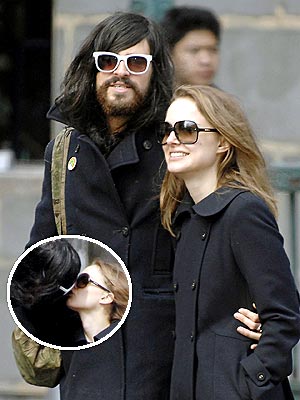 Check out Natalie Portman's new man, singer Deandra Barnhart. Ewww.

---
Posted by Lawren at April 10, 2008 05:41 AM | Trackbacks (0)

His name is Deandra??? Is this a dude or a chick with a lot of facial hair? The jury is still out as far as I am concerned.
Says:
Ashli
at April 10, 2008 07:13 AM
---
its DEVANDRA and he happens to be a brilliant singer/songwriter.
Says:
daniel
at April 10, 2008 05:06 PM
---
Oh, cuz that makes it normal. Thanks.
Says:
Lawren
at April 13, 2008 08:10 PM
---
viagra sans prescription =DDD køb viagra fyj Billig Viagra 77237
Says:
wannabehaxor
at November 25, 2010 06:45 AM
---
levitra %-OOO life insurance :-))) florida auto insurance 56699
Says:
Lovie
at April 18, 2012 09:40 AM
---
I'd have to check with you here. Which is not something I usually do! I enjoy reading a post that will make people think. Also, thanks for allowing me to comment!
Says:
the show and tell project
at August 21, 2013 10:38 PM
---
Hello, i read your blog occasionally and i
own a similar one and i was just wondering if
you get a lot of spam feedback? If so how do you prevent it, any plugin or anything you
can suggest? I get so much lately it's driving me mad so any assistance is very much appreciated.
Says:
fox soccer channel
at October 20, 2013 12:09 PM
---