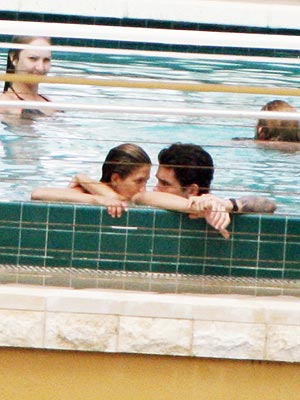 Mayiston (that's John Mayer and Jennifer Aniston) continue to get cozy.
---
Posted by Lawren at May 12, 2008 05:38 AM | Trackbacks (0)

I always liked her, and I felt really bad for her after what Pitt did to her, but really, right now she's just asking to get dumped...
Says:
at May 12, 2008 07:33 AM
---
I'm not happy about this. AT ALL. He's a playa, Jen ... come on ....
Says:
Iceman
at May 12, 2008 08:04 AM
---
Great post, I conceive people should learn a lot from this weblog its really user friendly .
Says:
Rana Sciancalepore
at March 19, 2012 12:57 AM
---
This really answered my issue, thanks a ton!
Says:
Kanisha Marchi
at March 19, 2012 02:37 PM
---
I found your weblog site on google and check just a few of your early posts. Continue to keep up the very good operate. I just extra up your RSS feed to my MSN News Reader. Looking for ahead to studying more from you afterward!...
Says:
Martine Coburn
at April 25, 2012 05:33 AM
---
hi....we are a new web page on market and we wish do come up with a little adsense on facebook...if you want to, send us one Facebook coupon code please !! Many thanks
Says:
Whitley Zeme
at May 10, 2012 10:30 AM
---
I'm ecstatic. I actually finished my quilt weeks ago (surprise!). Many thanks for all you do.
Says:
Kerstin Wertheimer
at June 1, 2012 05:17 PM
---
Absolutely composed subject material, Really enjoyed studying.
Says:
Filmy
at January 25, 2013 02:35 PM
---
always looking for good reading.
Says:
Ray Shoptaw
at January 19, 2014 10:59 AM
---