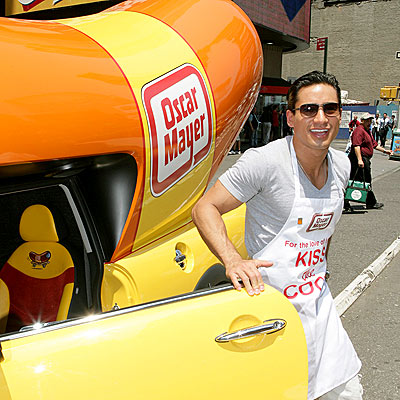 Like we needed anymore proof that he is a wiener.
---
Posted by Lawren at June 11, 2008 05:39 AM | Trackbacks (0)

sometimes action speaks louder than words!
Says:
Isidro Minacci
at September 14, 2011 10:26 PM
---
you've got a great blog here! would you like to make some invite posts on my weblog?
Says:
SEO Katalog
at February 5, 2013 12:39 PM
---
Many thanks for this article. I'd also like to mention that it can possibly be hard when you are in school and starting out to create a long credit ranking. There are many pupils who are merely trying to survive and have an extended or good credit history can sometimes be a difficult thing to have.
Says:
piotr lesiak politechnika radomska wydzia³ transportu
at February 8, 2013 03:27 PM
---
bad title as she isn't sexy. she is like some dirty red neck slut that probably has a pack of Winstons shoved in her bikini somewhere
Says:
female nudes
at February 15, 2013 07:10 PM
---
There's some more on my website, although many are the same as above. I got asked by at least two people to delete abusive tweets they had posted directed at Alex Salmond fair enough, the tweeters were very young but hopefully they learn and realise what can happen to a tweet and what it can make you look like when you press send'. Well done on posting these for maximum exposure.
Says:
Berta
at March 26, 2013 01:53 PM
---
I am so thrilled I stumbled upon your site. I really found you by mistake, while I was browsing on Bing for something else. Anyways I am here now and would just like to say thank you for a informative post and an all round enjoyable blog. (I also enjoy the theme/design), I don't have time to read through it all at the moment, but I have added your website to my favorites, so when I have time I will be back to read more. Please do keep up the awesome job!
Says:
Alena Braly
at July 20, 2013 02:41 PM
---
Hi, I just wanted to tell you, you?re dead wrong. Your article doesn?t make any sense.
Says:
Freeman Tooks
at August 15, 2013 09:38 PM
---
By creating business page, and getting your potential prospect to like them, you can create buzz or create viral effects.
Says:
Eldridge Eames
at September 4, 2013 10:45 AM
---
Then he realized that he did not want to become a doctor, but not knowing what he really wanted to become, he decided a career in business would be good.
Says:
Leann Cashon
at September 4, 2013 05:48 PM
---
Pinterest is quickly beginning to dominate the other social media platforms, even Facebook, as delivering the best traffic for businesses.
Says:
Kip Disorda
at September 4, 2013 07:58 PM
---
By using social media for marketing, you can create business identity for your business too.
Says:
Barry Pettey
at September 5, 2013 02:28 AM
---
Every when in a whilst we pick blogs that we read. Listed below would be the most recent sites that we select
Says:
moncler pas cher
at September 5, 2013 09:54 AM
---
Had Ben not failed with Tote which led to an interesting discovery in human behaviour, and then had the courage to try again, he would be another online statistic.
Says:
Ezekiel Warila
at September 5, 2013 10:56 AM
---
It was a complete failure! So why did Ben Silbermann continue? Why not quit correct there after which and return to medical school?He didn't know his next venture would be a accomplishment but he knew that eventually he would discover a thing that worked.
Says:
Brent Olubunmi
at September 8, 2013 11:21 AM
---
A couple of webmasters are individual on the internet marketers.
Says:
Nadine Kellin
at September 8, 2013 01:38 PM
---
I am in fact grateful to the holder of this site who
has shard this enormous article att aat this place.
Says:
candy crush saga hack iphone ifunbox
at March 10, 2014 02:51 PM
---
Well spoken of course! .
Says:
____________ __
at March 12, 2014 08:37 PM
---
Good info. Lucky me I came across your website by accident (stumbleupon).
I've saved as a favorite for later!
Says:
All inclusive
at March 19, 2014 01:22 AM
---
No matter what info or recommendations that you might come across on the internet or
even from some other non specialized professional medical sources has to be reviewed along with your
health practitioner or medical specialist, it's under no circumstances
sensible to simply be dependent upon information acquired through this sort of resources.
P-carrot-prime promotes the secretion of protease and exacerbated
apoptosis. Patients taking any medications should consult with a qualified healthcare
professional, including a pharmacist.
Says:
wyandottefsc.com
at April 4, 2014 05:17 PM
---
Hi my family member! I wish to say that this post is amazing, great written and
include almost all significant infos. I'd like to look more
posts like this .
Says:
Boshaprin Kymaro Body Shaper
at April 12, 2014 07:20 PM
---