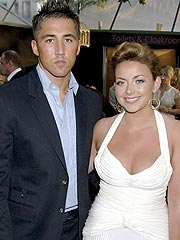 Voice of an Angel singer Charlotte Church and her rugby player boyfriend are expecting their second child, the couple have announced on her Web site.
"Here we go again!!!" say Church, 22, and Gavin Henson, 26. The couple, who welcomed a daughter, Ruby Megan Henson, last September, are "delighted to announce that they are expecting another baby," the blog says.
"The couple are thrilled, as are their immediate families."
---
Posted by Lawren at June 19, 2008 05:29 AM | Trackbacks (0)

Ugh... c'mon kiddies! It's totally cool and awesome to get knocked up without getting married! Who needs marriage? It's such a waste of time!
...she may have the voice of an "angel" but she's got the hornyness of a hooker.
Says:
at June 19, 2008 07:20 PM
---
xanax 271 accutane 8682 phentermine 314110 auto insurance 47255
Says:
WinterKrieg
at June 19, 2010 04:11 AM
---
cheap car insurance :OOO state auto insurance 492 online auto insurance 8DDD cheap health insurance tvm affordable health insurance 614
Says:
Speirman
at July 5, 2010 09:34 AM
---
cheap home insurance 5186 state auto insurance %-[ health insurance 914 new york state health insurance program 948 temporary health insurance =OOO
Says:
sbmillionair
at July 20, 2010 10:01 AM
---
acompliaAR 444 accutane online wjqt valium %[[ aciphex online 8[
Says:
xCabooboo
at July 22, 2010 02:46 PM
---
slots vjxgq life insurance %DDD cheap car insurance 213 home insurance in florida usd auto insurance 8[[[
Says:
reeset
at July 29, 2010 06:11 PM
---
I see you removed my post exposing PublishAmerica.
Says:
Delphine Bittinger
at March 28, 2012 10:17 AM
---
I would prefer to thnkx to the efforts you've put in composing this web page. I'm hoping identical high-grade site publish from you inside the upcoming also. In point your creative composing techniques has inspired me to obtain my very own web page now. Really the blogging is spreading its wings fast. Your create up is often a wonderful example of it.
Says:
Amos Duvall
at November 7, 2012 03:08 PM
---
It is really a huge joke, kabuki theatre or pro-wrestling. NO difference involving Romney and Obama!
Says:
Oren Ostrum
at December 15, 2012 05:07 AM
---