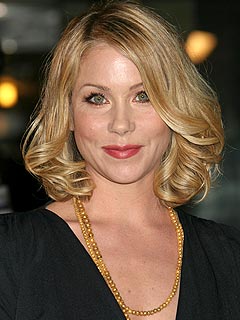 Christina Applegate, who was diagnosed with an early form of breast cancer this month, revealed on ABC's Good Morning America Tuesday that she has undergone a double mastectomy – even though cancer was only detected in one of her breasts.
Privately, she admits, "Sometimes I cry. Sometimes I scream, and I get really angry and I get really into wallowing in self-pity sometimes, and I think it's all part of healing."
Having watched her mother, Nancy Priddy, battle breast cancer – and then suffer from a recurrence many years later – the Emmy-nominated star of Samantha Who?, 36, told interviewer Robin Roberts that she wasn't taking any chances, especially since she has the breast cancer gene, BRCA1.
"My decision, after looking at all the treatment plans that were possibilities for me, the only one that seemed the most logical and the one that was going to work for me was to have a bilateral mastectomy," said Applegate. "So basically I had a prophylactic double mastectomies."
---
Posted by Lawren at August 19, 2008 06:47 AM | Trackbacks (0)

hair straighteners
Says:
quick
at November 27, 2010 10:53 PM
---
Your first sentence immediately got me interested in this topic. Your unique commentary and writing style had me convinced of your points. Amazing work. Please continue this type of content.
Says:
Santos Desquare
at April 26, 2012 12:13 PM
---
Thanks gals for your info "Helen" at age 92 is tiny - 80 lbs - size 0/2 - still loves clothes AND makeup and loves to iron - does a much better job than the cleaners!!
Says:
Elfrieda Doerrer
at June 1, 2012 05:44 PM
---