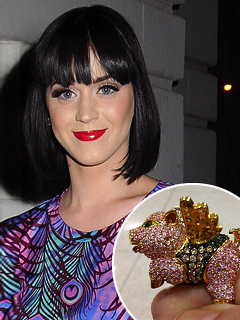 Only Katy Perry could find just the right bling for a global pandemic.
"Since swine flu is super trendy I wanted to make sure I was in style with my swine flu ring!" the "I Kissed a Girl" singer writes on her blog. "I got this one in Miami at Big Drop the other day ... a flying piggy."
And if that's not silly enough, Perry relates a conversation about the swine flu she had with her cat (yes, her cat), whom she's named Kitty Purry.
"Kitty Purry was telling me the other night that she remembers when bird flu was in and now pig flu is cool and she wonders when kitty flu is gonna hit," writes Perry, "as she would like to be more popular than she currently already is. Fame whore."
---
Posted by Lawren at May 5, 2009 05:39 AM | Trackbacks (0)

Hello!
buy cialis , viagra , cialis , cialis , cialis ,
Says:
buy_cialis
at February 26, 2010 10:43 PM
---
Hello!
cialis online ,
Says:
cialis_online
at March 8, 2010 08:52 AM
---
Katy Perry's songs from her album Teenage Dream continue to be exciting to listen to. I will always have California Gurls in my music library! My favorite thing about California Gurls is really its music video, since I think it's really funny. Snoop looks dapper while Katy seems like a piece of heaven.
Says:
California Gurls Lyrics
at November 16, 2010 08:44 PM
---
slots >:-PPP car insurance quotes 69365
Says:
lambarii
at November 28, 2010 05:52 AM
---
phenergan %[[[ antivert okbiyt mazindol :-))
Says:
ddtinsley
at December 24, 2010 07:46 PM
---