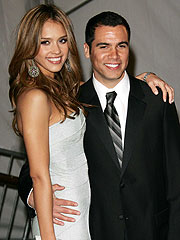 Jessica Alba is pregnant with boyfriend Cash Warren's child, her rep tells said.
"I confirm that Jessica and Cash are expecting a baby in late spring, early summer," says rep Brad Cafarelli.
---
Posted by Lawren at December 12, 2007 06:52 AM | Trackbacks (0)

This probably explains why they got back together?
Says:
Iceman
at December 12, 2007 09:14 AM
---
Lots 'o make-up sex.
Says:
Lawren
at December 12, 2007 11:06 AM
---
An illegitmate child, how nice. Just another fine example for young people to emulate.
Says:
aeh
at December 13, 2007 05:47 PM
---
Once i use Xcode it shows some issues saying " uniqueidentifier' is depreciated " for two files: CLScoreServerPost.m and CLStoreServerRequest.m. I hope nothing will go wrong.
Says:
Rodger Tant
at June 1, 2012 05:40 PM
---
What a collection, get a moment a look for the photographs within the auctioneers web web site. I would go-if it had been not for the other side in the region.
Says:
Herbert Ostermann
at December 15, 2012 06:15 AM
---